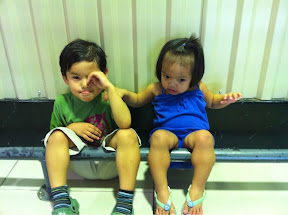 Whatever callum did teagy would follow. Its so cute!! And i love this picture will definitely frame this one up!!
Teagy's kohkoh callum came back from UK an had to transit here before flying off to KK. So we went over to LCCT to see him. I LOVE seein them play together. They're two years apart and still so young but can already see that they have so much love for each other. They spent about three hours together then when callum had to board the plane he was asking "but why?" had to hold back my tears at that time :( teagy then got teary eyed and was looking away, no eye contact whatsoever not saying anything. So so sad!!!!
Looking forward to seeing him again raya time
"callum why you so sad??"
"no...this is my teagy took my buzz lightyear face"
Hahahaha. He was so protective of teagy.
"teagy don't go there!"
"teagy, no that's dirty!"
Then he would say
"i think teagy like me..."
"i miss teagy too much..."
Aww... Typing this right now makes me all teary eyed!!!!
Every few minutes he would hug and kiss teagy. too cute!!!!
At one point teagy tripped and fell he then ran towards me and said
"oh nooo that was my fault!!"
Eventhough it wasnt haha
And the cutest part of all that boy had an english accent!!! Haha so so cute!!
Took a short video of them running around. Lucky found a huge empty spot at international boarding. Thet could just run around without us having to worry much.
- Posted using BlogPress from my iPhone